Mario Suárez García
Entrepreneur
Back in 2008, when our son Mario was signed for RCD Mallorca Football Club, we met Jesus Maria Calvo and a special bond was created between our families.  Jesus is Co-Founder and Co-owner of Balearhouse Estate Agents and cherry picked the perfect place so that Mario together with our friends and family could enjoy time in Mallorca.
The other fundamental partner of this successful company is Ilka, Jesus's wife and joint owner.  Ilka is a level-headed and caring person, but most of all not only dedicated to her work but also to her family and certainly a necessary and complementary asset to the company.  Jesus is lucky to have her at his side.
Jesus and Ilka, Ilka and Jesus, such a well-paired and inseparable tandem intrinsic to Balearhouse.  Jesus is the front man and public relations par excellence and the trustworthy Ilka, responsible for the smooth running behind the scenes.
What's more with the professional and experienced staff that make up the Balearhouse team, I can highly recommend the wide range of property services that they offer. 
In fact, recently we have called upon their services for 3 different property transactions on the Island.  As always Balearhouse gave a valuable and professional service.
I sincerely wish Ilka, Jesus and al the team a long life and a lot of success.
Rosa Lobato
Madrid
We arrived in Mallorca 4 years ago, and received a helping hand from Balearhouse right from the start.  Their kindness and local knowledge made it so much easier for us to move the whole family.  After asking about our school preferences, they were then able to guide us and suggest the best areas for our family to be located. 
There was an immediate connection with Jesus and Ilka, and we have since become good friends who enjoy spending evenings around a table of delicious food which happens to be one of our shared interests.
 Recently we have needed to call on their services once more.  Yet again they demonstrated how dedicated they are to their work.  Taking into account our requirements and looking for the most suitable property. 
They offer their honest opinion and made us feel totally supported and taken care of which was so important for us when purchasing your family dream home.
Vadim Vasilyev
Ex Vice-President and CEO of AS Monaco football club
First time I had set foot on the island back in 2007 I immediately fell in love with Mallorca and hoped one day I will come back to buy a property here. So when I finally decided to go for it in 2016 I knew I needed a serious agent to do the job. Buying real estate can change one's life for the better but it can also change it for the worse as mistakes are very costly and painful to correct. I started asking friends and my different contacts and rather quickly the name of Jesús came up. We decided to work together and already in summer 2017 me and my family moved into a house of our dreams. Since then we always try to spend summers in Mallorca and every time we visit the island we feel grateful to Jesús for having introduced and brokered this property for us.

Professional, reliable and trustworthy as an agent Jesús has since become a personal friend. In fact our families became friends and we received invaluable help from Jesús and Ilka in the process of our integration in Mallorca.

I'm very happy to see Balearhouse growing with a recent move to a great new office.

Wishing lots of success in the future!

Spasibo, Jesús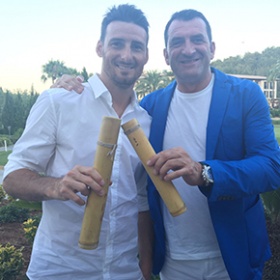 Aritz Aduriz
Professional football player Athletic Club Bilbao
Mallorca, an island that is very special to us, which we were lucky to discover nine years ago, with its amazing places, a perfect climate and lovely people. One day we were also lucky to meet you, Ilka and Jesus, with your personalized and professional service , you introduced us what today is still our " txokito " every time we go there. What began as a professional relationship today is still a relationship of good friends with whom we share real good times. In our opinion, Balearhouse is distinguished by its fantastic after-sales (or –lease) treatment, providing solutions to all posible problems, making everything much easier. A big hug from your friends Iara , Ainhoa and Aritz
Unai Emery
Football trainer, París Saint-Germain
By getting to know Jesús, I have discovered Mallorca, and surely without him I would have never been so impressed by this beautiful island. The energy he has, his enthusiasm, his knowledge and care for everyone and every corner of the island is only topped by his professionalism, dedication, affection and his general doing everything well which I was offered by him as well as by Ilka during the last 10 years of my relationship with Balearhouse. This company offers you a comprehensive asessment  looking out for the tiniest detail which surely will satisfy the expectations of the most demanding buyer/investor. Thank you so much for all your help.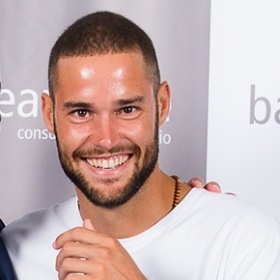 Mario Suarez
Professional Football player
For me Balearhouse marked a before and after in my life… I arrived for work at Mallorca 9 years ago and from the 1st day the friendliness and availability of Jesus and Ilka surprised me. They found immediately the house that suited my needs and from there everything went through on their part: a cleaning lady, they looked after the house when I was not there etc , etc … I was two years in Mallorca , but since then I spend all my summers on the island, and of course I have Balearhouse to help me rent a house, boat, etc , etc … ! Already for some time they are special persons for me, great friends and of course, when someone needs something in the Balearic Islands I put them in contact with Balearhouse. A big hug and thank you very much for everything!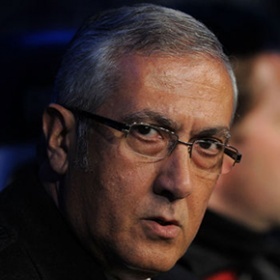 Gregorio Manzano
Professional football trainer
It's a great pleasure to arrive to Mallorca and get to know Balearhouse and Jesus , the person who runs this magnificent consultancy for high level real estate. His great knowledge of the island, his tireless work and his proven professionalism is more than enough reason to contact Balearhouse for anyone who wants to find his best house in the best place in Mallorca. "THE TIME WILL PROVE YOU RIGHT"
Jan Vennegoor of Hesselink
Former player of the Netherlands national football team
Balearhouse has helped me in a fantastic way with the purchase of my house on Mallorca. Really everything was shipshape but more importantly for me is that if I need so- mething now in or around the house or if I have to arrange anything with the authorities they are always there to help us. Nothing but praise for the personal attention and the good service that Balearhouse offers. Best regards.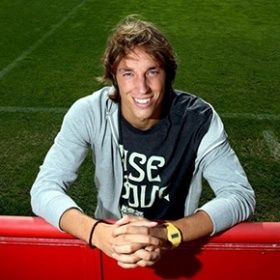 Tomás Pina
Professional footballer - Club Brugge KV, Belgium
Since the first moment I contacted Jesús, I was convinced by his attention to detail, availability and of course professionalism. With the time we spend with him, the treatment could not have been better.
It is very easy to enjoy and talk about an island like Mallorca, it nearly obliges you to fall in love with it; but meeting professionals who make you feel at ease is not quite such a given factor. Trust and loyalty are values which are very hard to find.
Heriberto Salas Guillén
Economist
Simply a few lines to express our gratitude to Mr. Jesús Mari Calvo, for his work, professionalism and dedication which he has offered us in every moment from the start to the finish of the purchase process of our property.
During our purchasing process we have obviously been in touch with various establishments dedicated to the sale of properties, and for this reason we believe to be in the position to claim that we have never been in contact with any person as friendly, gentleman like and professional and who would be available in every moment, as Jesús Mari Calvo, representing the company Balearhouse.
Due to what has been mentioned before, we would like to express our most sincere gratitude towards Mr. Jesús Calvo and of course, we will without a single doubt contact Jesús in the future if we plan to sell any of our other properties as much as we are looking forward to communicate to everyone in our close circle to get in touch with him if they have a property for sale or on the other side, are looking for a property to buy or rent; if they want to settle down on the island they will not find on the market more professionalism, responsibility, attention, etc. which this gentleman will offer you with certainty.
Cristina Arcas & Valerio Perna
Surgeon
Our arrival to Mallorca 8 years ago was full of expectations. Together with Cristina, my wife, we were looking for new professional challenges but mostly a place where to start and raise a family together.
Having this in mind, the first step and most crucial part of this project was of course, to find a home. I have to admit that we actually started off with a bad investment, and only thanks to Jesús, we realised this was a huge mistake we were about to commit. Thanks to him and his experience in the sector, we could not only stop and save the investment, but also did he find us the perfect home where we live today very happily with our little ones Claudia and Sandro.
This in itself is amazing, but on the same level is the friendship which unites our family and the family of Jesús. We were incredibly lucky to have known his wife Ilka, a wonderful person, an extremely hard working professional, and a great example of a mother. From her derive the friendly, spontaneous, responsable and well educated traits in her children Sofia and Carla, who in many occasions have been great examples for our children.
We have shared unforgettable moments of our live and I am sure there will be many more in the future!
I can tell you without fear of making another mistake, that balearhouse is way more then a Real Estate agency! They are professionalism, but also attention, passion and emotions; in summary, it is an experience far beyond a usual buying operation.
Arantza Salas & Jordi Van Oostenryck
Entrepreneur
We were lucky enough to have met Ilka and Jesús at our arrival in Mallorca around 15 years ago. They played an important role in making us feel very comfortable. Honestly after many years with Real Estate agencies on the mainland, we did not believe that you could find a team as professional as Balearhouse. From the first day they made us feel to be part of their life, they understood our needs and helped us with absolutely everything we needed. We can never forget that during a complicated period they gave us all their warmth and support for which we will be all our live grateful. Thank you Ilka and Jesús!!
Due to professional reasons, we had to change our location but we still count on their services to maintain and coordinate the rental of our property, supporting us way beyond the usual help. I tell my friends a lot of times about the luck we had to get to know both of them. We could tell you much more about them, but the most important for us is to have the knowledge that we can count on their friendship after all those years. Highly recomendable would I without a doubt trust in them for any future investment. We just want to say thank you for being there for us, for their help and their excellent management. Many should learn from them.
Jesús Botín Gutiérrez
Entrepreneur
Mallorca to me is paradise; an island where I truly feel happy. And a big part of this feeling is thanks to my friend Jesús Calvo. Thanks to his professionalism, dedication and his maximum effort to find us the property which best adapts to our needs and wishes, convert each visit to the island in a special event.
Balearhouse is not just a luxury Real Estate agency, it goes way beyond that: as much Jesús as Ilka and the entire team they formed, take care of the property purchase or rental on a really personal level as much as they sort out everything you could possibly need after the purchase. They do that with utmost diligence, a special care and an incomparable personal touch.
Thank you very much Jesús and Ilka!
Georgina & Javi Márquez
Professional footballer, New York Cosmos
Since the first moment we set foot to the paradise Mallorca, we have always had Balearhouse as our consultant and support.
They accompanied us until we found a family house to rent and helped us with everything. Later we decided to buy a house, which we unfortunately could not use for a long time, because we had to move for professional reasons. The most important thing about buying a house was having two great friends on our side, of whom we knew would take care of our property as if it were their own. Both Jesús and Ilka have become a very important reference point on the island to us.
We will be forever grateful to the two fespecially for the great work they are doing and for their kindness with which they treat us.
You deserve great success for your amazing work!
A huge hug from Georgina & Javi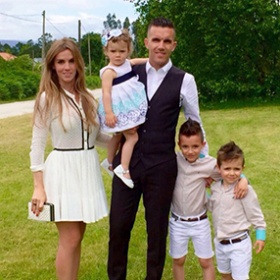 Julio Álvarez Mosquera
Professional footballer at CD Numancia
Everything flows and connects with each other, for this reason my family and myself decided to live in our chosen place in the world, Mallorca, an island on which we have unique experiences; we became parents for the first time, and we have met two incredible people, Ilka and Jesús who understood from the very first moment that we weren't just looking for a standard house but for a real family home. Thanks to Balearhouse we now have besides a property and a home, friends for a lifetime and rather special, unique and different professionals. Through their human and natural way of treating us, have made one of our dreams come true – to start a happy family and to enjoy the paradise Palma. Thank you!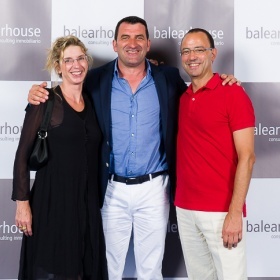 Fanny van den Burie & Mauricio Roca Moreno
Executive European Comission
When we moved to Mallorca a year ago, we were acquainted with its beaches, its mountains and its gastronomy; but we were not familiar with its real estate market. As a matter of fact, we didn't know anything about it !! But we were so lucky as to meet Jesús via common friends. From the very first day Jesús and his Balearhouse team were there to guide us and to help us make the right choice. If I were asked to define Jesús in a few words, I would say that he is a caring person and an excellent professional. Jesús and his team are always ready to go the extra mile for you and your family. If you are planning to buy or rent in Mallorca, I can recommend you Balearhouse without hesitation. Welcome to Paradise!
Germán Lux
Professional footballer, River Plate (Argentina)
I really appreciate the opportunity which in this case gave me the football, to arrive to Mallorca, an incredible and unique place for my family.
It is a pleasure to direct and dedicate these words to Jesus and Ilka who I thank very much for the reception and the treatment we received since we arrived in 2007 until today, today we do not reside there but we have the security and tranquility that our investment is very well looked after and taken care of. Thank you very much for the human touch, for being so professional and making us grow towards you. Today we are living in Argentina but we are always thinking and looking for a date to go visit them in Mallorca. Balearhouse is what a family needs to relax and enjoy this wonderful island that is MALLORCA.
The Lux family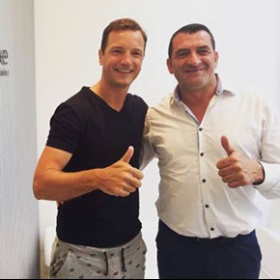 Arnold Bruggink
Ex-football player of Netherlands national football team
For one year I played for RCD Real Mallorca. In that year I fell in love with the Isle Mallorca. My dream was to someday own a property there. The first time I heared about Balearhouse was through a friend. Jesus helped them buying a beautiful home, and they were very positive about Balearhouse. Because I wanted to buy a second home in Mallorca I contacted them. They helped me find the perfect apartment. My friend was right. I loved the personal approach and enjoyed the search for our ideal home. And still we can call them for all sorts of things. We don't have to worry about a thing. If we arrive everything is been taking care of and we can fully enjoy our time at Mallorca. Now I also recommend Balearhouse to all my friends.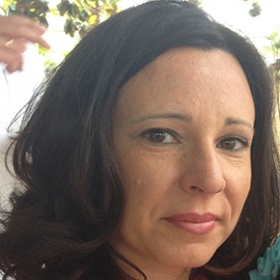 Gemma Gil
Bank manager
We just wanted to thank with a few lines your work and service, which started 3 years ago, finding the property that best suited our needs , and which me and my family enjoy very much. Although what makes dealing with Balearhouse different, is not only their professional work, but that it goes beyond. It's been a few years contact now and the professional relationship has resulted in a personal relationship , so both Jesus and his wife Ilka have become for us trustworthy persons … thank you for making our life easier in this paradise of Mallorca! Of course , when anyone asks me for a real estate contact here I do not hesitate to recommend Balearhouse.
Paco Sanz Duran
Entrepreneur
Balearhouse is not just a Real Estate agency nor a common consulting agency, it is one of a kind which combines professionalism and the accurate execution of their work with friendship and trust. Besides their knowledge of the industry or their understanding for the clients' choice, they treat you just how they would treat a family member. Jesús Calvo as the head of the business is a person who knows perfectly well how to build friendships, more importantly though, he knows how to maintain them. I think I am friends with Jesús foro ver 20 years by now and every time I recommended him, I was always rewarded with utter gratefulness!
I wish Balearhosue all the best for the coming years, the true winners though are the ones choosing this company to find their new home.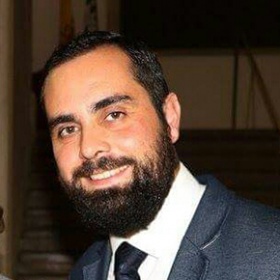 Alejandro Jurado
Sports journalist
Balearhouse is a great reference amongst Real Estate agencies. Whoever has a single doubt about this company should know that their big plus and secret to their success is most definitely the personalised service from the owners Ilka and Jesus which they provide for all clients. This is mostly important for the ones not living in Mallorca. Every tiny little detail of your new home will be looked after personally with you following every step and nothing is left to chance. I have not met any other person like Jesús who without actually being born as a Mallorquin, breathes and lives the mallorquin life, he loves and cares for our beloved Island and without doubt, this is what makes Balearhouse so unique.
Jose Carlos de Araujo Núnes
Ex-football player Sporting Braga and R.C.D. Mallorca
Para mi y mi familia, hablar de Balearhouse es hablar no solo de una empresa pero tambien de una de las partes mas importantes de la vida, que es la amistad. Llegamos en 2006 a la isla por motivos de trabajo, y con Jesus e Ilka aparte del trato profesional que se les reconoce, hemos tenido el placer y la fortuna de solventar una amistad que todavia perdura y se mantiene. Por estos motivos, solo puedo recomendar a Balearhouse a todos los que necesitan un trato especial y distinto…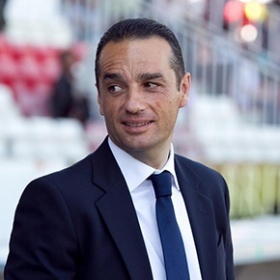 José Luis Oltra
Professional football trainer
For my family and me to live in Mallorca has been a wonderful and unique experience. A great part of it thanks to Balearhouse . From the start we were guided and helped in everything, facilitating things. Whenever we needed something, they were pending and worried about us. We leave the island with sadness on one side, but with the certainty that we can always come back and meet our good friends of Balearhouse. Thank you very much!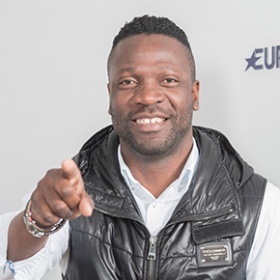 Lauren Bisan
Ex Arsenal player and Cameroonian football player
When I started my career as professional football player, I did not trust the people who tried to approach us. However getting to know Jesús and the company Balearhouse has been one of the best things that have happened to me due to the great advice I received in regards to our investments as much as on a personal level. The friendship which connects both our families still remains after 17 years. Thank you very much Balearhouse for the mutual trust and loyalty.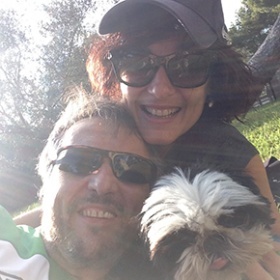 Iñigo Ercoreca
Business Executive, Bilbao
We were complete newbees to the Island and after just arriving, we met Jesús, who was recommended to us by our friend Aritz. From the first moment his availability and the commitment of Jesús and the efficiency of Ilka were crucial factors for our integration into the Island.
We need to really highlight his incredible knowledge and professionality but first and foremost the kindness of both.
His interest and worry to find us the right property together with the complete support in any issue we had or things we needed, confirmed our opinion that everything would have been so much more difficult without him.
The professional relationship transformed quickly into a friendship of which we hope will be a long lasting one. We have not a single doubt in recommending their services to anyone.
Thanks to Ilka, thanks to Jesús!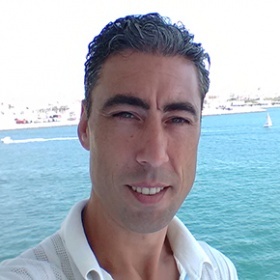 Marcelino Elena Sierra
FIFA agent
When I leave my house keys to Balearhouse, I do not just drop them off at a Real Estate agency but to Jesús, a friend. This is how I see my relationship with the agency.
I got to know Jesús during my time as a football player in Mallorca but it was only after my career when I actually needed the services of an agency. I only heard good things about him until then but to be honest all I could say is even much better as I had the first hand experience with them.
It is not just about leaving keys in the hands of someone you trust, the Balearhouse team demonstrated over all the years I know them professionalism, dedication and efficiency in whatever they do. This to me is what I demand from a professional nowadays.
Hence my very honest and sincere congratulations to their 15th anniversary, may they celebrate many more in the future!
Jose María Sánchez
Fitness coach of the Córdoba CF
After many years of changing city for professional reasons , I was lucky to meet Balearhouse on Mallorca, where I not only found advice on all aspects when buying or renting a home that would fit my needs, but also, once acquired, the team felt responsible for all subsequent paperwork and you can count on them for any problems that arise in everyday life. The treatment is unbeatable : attention to details and reliability are their hallmarks. Their human qualities convert what initially was a property consultant into a friend forever.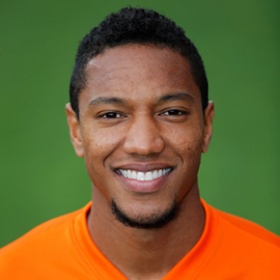 Jonathan de Guzman
Football player of Eintracht Frankfurt & Netherlands national football team
Mallorca is a beautiful island and to work with Balearhouse to find the perfect home made it feel more like paradise. Jesus introduced me to another way of living. The relaxation I found living by the sea helped me and my family to appreciate life more. Mallorca is not only a place where I see myself living after my career but it is also a great location to go on holidays. Balearhouse is one call away from paradise. You know everything will be organised by the time you get there. All you need to do is tell them what you want and they will be right there at your service. Thank you.
Katherine Powell
Operations Director
Purchasing a property in Mallorca was a dream my family and I have had for a long time however the daunting task of dealing with agents, solicitors and unknown laws and regulations meant we kept it on the backburner for some time.  That was until we were recommended Jesus Calvo and his team at Balearhouse.  We decided to go on the recommendation and it was a decision we did not regret.  From the first contact we felt we were in expert hands.  Walking into their downtown Palma office was always a pleasure.  The team were so welcoming and we were made to feel special.  They carefully listened to our requirements and gave impartial advice that we were so glad to have listened to.  We really got a sound understanding of what Mallorca living with a family was like and how to enhance the experience for our whole family.  Their advice was invaluable and dealing with Balearhouse certainly came as a refreshing change to any agents we had previously been in contact with.  They found our perfect property and exceeded our expectations of the role of a real estate agent.  Jesus and his team go above and beyond for their clients and this is not just our experience, it seems everyone who has dealt with them sing their praises for their professional, knowledgeable and unique approach.  Thank you so much for making our Mallorca journey an exciting and stress free experience.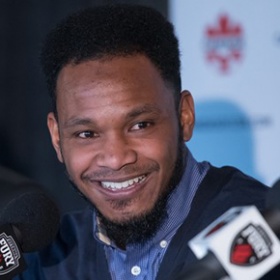 Julian de Guzmán
Ex-Football player of the Canadian national team
Working with Balearhouse has helped me discover a new home in paradise. Their honest efforts in finding what suits me and my family leaves me a proud man knowing that I'm a part of one of the most beautiful places in the world.