Aritz Aduriz, Mario Suárez and the model Malena Costa were amongst the over 200 guests celebrating the 15th anniversary of the Real Estate agency Balearhouse
On Friday the 26th June a very special celebration took place for the Balearhouse family. To celebrate 15 years of business, which all started with the CEO Jesús Calvo, the entire team of Balearhouse organised a cocktail party with over 200 invited guests which could enjoy cool drinks and finger food.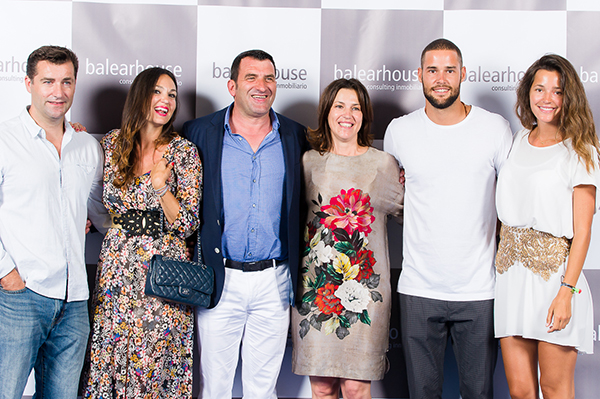 https://www.youtube.com/watch?v=RlO15cXjpBg
Watch the video of the 15th anniversary
The "high society" of Mallorca was proudly represented by precious members such as Alvaro Delgado, notary of Herrán y Delgado Notaries and former advisor during the term of president Mateu Alemany,Guillermo Dezcallar, lawyer at Illeslex, the talented architects Alejandro and Yolanda Palomino,Maribel Iboleón the co-owner of "La Oca" or Antonio Tugores, lawyer at Bufete Buades and current president of the centennial commission of the RCD Mallorca.
Among the large cast of elite players who once wore the shirt of Real Mallorca, there were Mario Suarez, currently defensive midfielder at Atlético Madrid and who attended with his girlfriend, mallorquin Top Model Malena Costa.
Together with Suarez, players who wrote history in the Real Mallorca football world and who celebrated the event were: Aritz Aduriz, Dudu Aouate or Victor Casadesús, most of which are currently active in the Spanish first league. Simply a bunch of great football players posing in front of the photocall to celebrate the 15th anniversary.
After the rocking voice of singer Victoria Miles, the protagonist Jesús Calvo gave his speech which was the most emotional part of the night. He truly expressed his thankfulness to all his friends, clients and people he worked with during the first 15 years of this company. Towards the end of his speech, the most important people in his surrounding of course were not left without mentioning – "without my wife, my two children and my team none of this would have been possible. They supported me for 15 years totally unconditionally. I am very lucky to have them."
We are looking forward to the next 15 years of this unconventional, family oriented Real Estate agency which simply does something right in order to be where they are today.