So, why choose to buy a Penthouse?
The story goes that the higher up in an apartment block you lived the less money you had, or at least that was the case almost a century ago. The Penthouse was actually often used as a communal laundry room or as housing for the poorer maids. Living conditions were damp and cold, there were no lifts. In fact, historically these top floor apartments, almost touching the sky, were the not considered worthy homes.
Of course, a lot has changed over the past 100 years. Most buildings now have lifts installed; the top floor has become accessible to all.
Over the decades, rooftop-living has seen a dramatic shift in popularity. The average penthouse is valued at 20 to 30 % more than other apartments in the same building. They offer space, light, spectacular views and a feeling like no other to live so close to the sky yet have all the amenities you could ever need outside your front door.
Palma is a year-round prized destination; it is within easy reach of some of the islands most beautiful beaches and stunning mountain scenery. The warm Mediterranean climate means more than 300 days of sunshine. The penthouse with its rooftop terrace is the perfect place to enjoy a city lifestyle.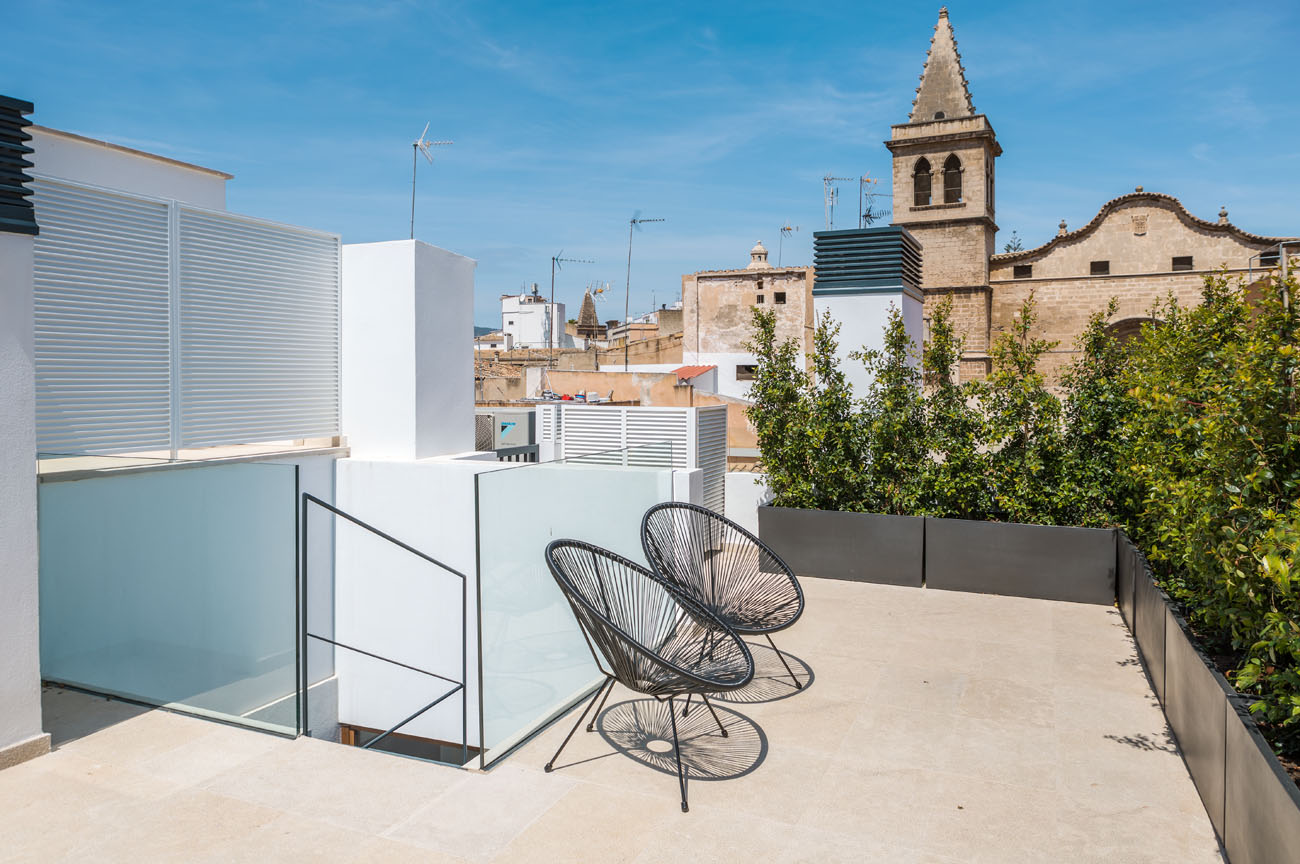 The city of Palma de Mallorca is charming and traditional, the distinctive and spectacular architecture of the city centre offers an exceptional array of penthouses combining style and elegance with first class urban living. Never more than a short stroll from the waterfront, the historic city, cobbled stones, tree lined avenues and flower filled terraces offer the city dweller a delicate blend of culture, museums, galleries, first class shopping and decadent cuisine, making it ever so popular with tourists and locals alike.
As most of the penthouse properties are found in the old quarter and city centre, they are in sought-after locations. New developments offer loft style urban living with contemporary architecture and spectacular views.
Here are our 5 good reasons to choose a loft property investment.
Being at the top of the building it receives all the sun's rays. Natural light floods the property and brings with it the pleasure of living in a bright and airy space. This is something a buyer notices and values when visiting properties.
Almost all the Penthouses in Mallorca come with terraces
Penthouse living with a terrace offers splendid views over the rooftops and beyond. This unique sun filled outside area offers privacy and so much more, swimming pools, jacuzzi and even vegetable gardens adorn the rooftops of Mallorca. Al fresco dining under the stars as the day draws to a close makes this outdoor space special both day and night.
They offer stunning views
Looking down onto the emblematic buildings and avenues to the waterfront and beyond, this birds eye view of Palma de Mallorca is impressive and breath-taking.
More privacy and less noise
Penthouses are private and there are no neighbours above you. Given their distance from the city's streets there is less noise and more tranquillity for you to enjoy.
Popular and fast-moving properties
As there are a limited number of penthouses, they are popular, which means they do not stay on the property market for long.
At Balearhouse we have an exceptional selection of exclusive properties that we are more than happy to show you.