Living in Andratx, Mallorca
Located in the coastal region of the Sierra de Tramuntana, Andratx is in a privileged setting. It is a cosmopolitan town where sea and mountains merge into a unique place. Andratx is synonymous with art, tradition, nature and, of course, experiences. Living in Andratx gives us the opportunity to integrate ourselves into a typical Majorcan community, which at the same time accommodates the most diverse cultures. Below we invite you to get to know this little town.
GOOD TO KNOW ABOUT Living in Andratx
Local language
Catalan, in its Majorcan dialect variant.
Official languages: Catalan and Spanish.
International schools
Agora
Queens
Transport
TIB line 101: Port d'Andratx-Andratx-Camp de Mar-Palma
Distances from the centre of Andratx:
Port of Andratx: 5 Km
Palma: 28 Km
Airport (Son Sant Joan): 39 Km
Sant Elm: 16 Km
S'Arracó: 4 Km
Golf courses
Golf of Andratx
Things to see in Andratx: history, art and culture
Andratx is one of the oldest villages in Mallorca and has an important rural heritage. The origins of this typically Majorcan village date back to the 2nd century BC. At that time it was known as Andrachium. In the historic centre, you can feel the history in every corner. When you enter the heart of Andratx and stroll through the streets of the old quarter of Pantaleu or Pou D'Amunt, you feel as if you have been transported to a bygone era.
Throughout history, Andratx has been the victim of attacks and looting by pirates. The 12 watchtowers built in the 16th century bear witness to this. The nearby churches of Santa María de Andratx, the church of s'Arracó, the castle of Son Mas or the ruins of the monasteries of La Trapa are also charming historical sites.
Rocky mountains that seem to float above the sea, pine forests that are home to a unique flora and fauna... The inspiring beauty of the typical Mediterranean landscape has been a stimulus for many artists and writers. This has led to Andratx being known for its modern and contemporary art galleries. At the Centro Cultural CCA Andratx you can see some of the best contemporary art on the island.
What to do in Andratx?
On Wednesday mornings you can visit the lively Andratx street market, where you will find a wide range of fresh, local produce. The area around Andratx is best known for its oranges, almonds, olives and grapes. Wine lovers can visit the Bodegas Santa Catarina, where they can experience an old Mallorcan tradition and a pure Mediterranean way of life.
Among the best beaches in Andratx, we would like to highlight Camp de Mar, one of the best beaches in Mallorca. Here there are luxurious facilities, spas and golf courses, such as the popular Golf de Andratx, frequented by celebrities such as Michael Douglas, Catherine Zeta-Jones, Claudia Schiffer and Brad Pitt. There are also lesser-known quiet bays that invite you to spend a relaxing day.
The surrounding area of Andratx is ideal for hiking due to its scenic diversity and also offers numerous cycling routes. Particularly recommended is the Trapa route, which runs along the west coast and offers spectacular views of the island of Dragonera. This island is considered a true natural paradise and can be visited regularly on organised boat trips.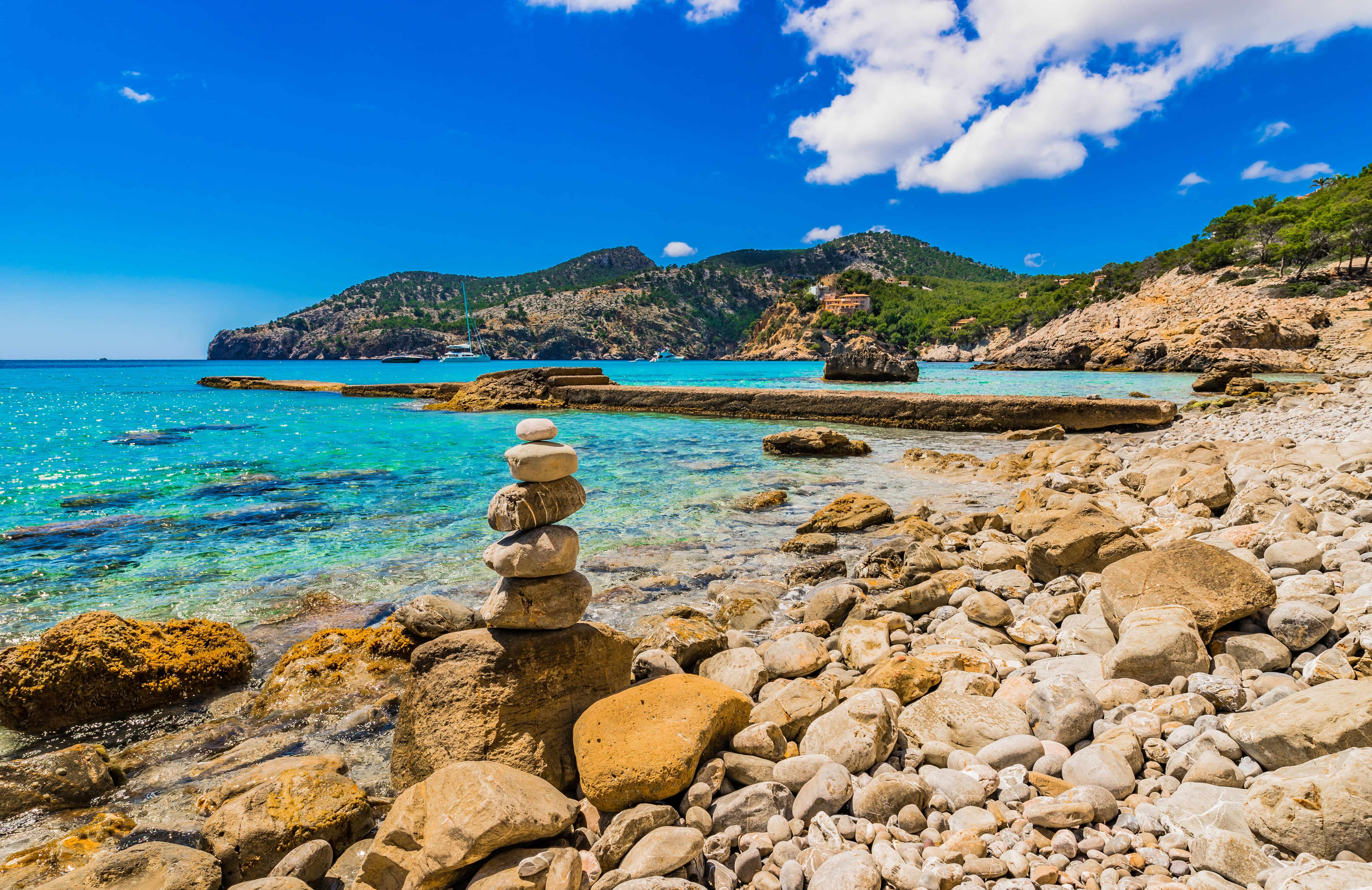 The Port of Andratx
The fishing port of Andratx has a charm all its own, combining local life with a cosmopolitan atmosphere. It is a place where tradition and modernity meet and exist in perfect harmony.
Puerto de Andratx offers a wide variety of gastronomic options. You can enjoy a pleasant meal in top gastronomy restaurants as well as in small, cosy homely restaurants right by the sea.
Puerto de Andratx also has numerous luxury shops and boutiques as well as a lively nightlife. There is also a yacht club (Club de Vela del Puerto de Andratx), which is ideal for nautical, social and sporting activities.
Buying a property in Andratx
Andratx offers a wide range of properties, from small flats for around 200,000 euros to luxury villas for up to 17 million euros. The historic centre and the port are the most sought-after areas, where the average price for flats and townhouses is between 350,000 and 700,000 euros.
Luxury properties are usually located in the surrounding areas and range in style from stately, rustic villas to elegant, modern, contemporary estates. The proximity to the sea, the extensive range of services and the exclusive restaurants and luxury shops attract buyers with high purchasing power, which has influenced the high property values.